Blood – Biohazard – After Death Cleanup Orlando
Blood Cleanup Experts
Absolute Bio -Clean is local to central Florida. We are the Blood Cleanup Experts. Providing Crime Scene , Unattended Death, Suicide, Infectious Disease and Bio hazard cleanup services.We are proud to service all 67 counties in the state of Florida, 24hrs a day, 7 days a week. Free Estimates on every call,upfront pricing. Our cutting edge stain and odor elimination methods will ensure safety to you and others.
Biohazard Cleanup Ocala
24/7 Undiscovered Death Cleanup in Ocala
We offer 24/7 decomposition and undiscovered death cleanup services throughout Ocala, and our technicians understand the emotional impact of unexpected death and treat each case with care, from start to finish. Call us for fast, compassionate assistance.
Ocala Murder Scene Cleanup
We are experienced in proper murder, homicide, and blood cleanup procedures in Ocala and adhere to all state and federal guidelines regarding the disposal of biohazardous materials. Call us anytime, day or night.
Ocala Suicide Cleanup
When you call Absolute Bio-Clean to handle a suicide cleanup in Ocala, our trained team will arrive promptly with your emotional needs in mind. We adhere to all regulations regarding how to deal with bloodborne pathogens and we will take care of the cleanup situation safely. We know that these situations are not scheduled, expected, or planned.We are here for you 24/7.
Ocala Meth Lab Cleanup
In the unfortunate event that you discover your Ocala property has been used as the production site for meth ,illegal drugs or has come into contact with tear gas call Absolute Bio-Clean . Law enforcement will not be responsible for ensuring the cleanup, disinfection or restoration of your property.Call us anytime for a free estimates. Upfront pricing.
Immediate Biohazard Response Ocala
We will be there for you 24/7. Our discretion always guaranteed. We are proud of our 5 star reviews and being the most reviewed biohazard cleanup company in Ocala.
Corona – COVID Disinfecting Ocala
COVID – 19 DISINFECTING in Ocala
Specializing in Disinfecting Infectious Diseases with 20 + years of experience. Local. Upfront pricing. Free Estimates.
Blood Cleanup Florida Automobiles / Boats / Busses / Planes / Law Enforcement Vehicles in Florida
Suicide Cleanup Florida Sewage Backup Cleaning
Crime Scene Cleanup Florida Filth House Cleanup Florida
Unattended Death Cleanup Florida Bloodborne Pathogen Cleanup
H1N1 Disinfecting Florida Jail Cell Cleanup Florida
Homicide Cleanup Florida Cleaning of unsafe dwellings
Accident Cleanup Florida Hoarder House Cleanup Florida
Vandalism Cleanup Animal Hoarder House Cleanup Florida
Tear Gas Removal Florida Dead Animal & Animal Waste Removal Florida
Fingerprint Dust Removal in Florida Bio-Waste Removal
Odor Removal Company in Florida Firearm / Weapon Removal Florida
Blood Cleanup Florida – Unattended Death Clean Up -Suicide Clean Up -Homicide/Murder Clean Up – Blood CleanUp Miami – Blood CleanUp Jacksonville – Blood CleanUp Tampa – Blood CleanUp St. Petersburg – Blood CleanUp Orlando – Blood CleanUp Tallahassee – Blood CleanUp Fort Lauderdale – Blood CleanUp Port St. Lucie – Blood CleanUp Cape Coral – Suicide CleanUp Miami – Suicide CleanUp Tampa – Suicide CleanUp Orlando
Orlando – Orange – Seminole – Volusia – Flagler – Palm Coast – Clearwater – St. Petersburg – St. Augustine – Maitland – Casselberry – Sanford – Lake Mary – Tallahassee – Dublin – West Palm Beach – Deltona – Palm Bay – Oseola – Brevard – Lake – Marion – Polk – Tampa – Jacksonville – Pensecola – Key West – Miami – Flagler – Lee – Hardee – Gainesville – Melbourne – Kissimmee – Daytona – Cocoa Beach – Windermere – Putnam – Nassau – Citrus – Hernando-Highlands – Martin – Palm Beach – Hendry-Taylor – Walton – Okaloosa – Bay – Santa Rosa – Escambia-Holmes – Jackson – Washington – Calhoun – Leon – Clay-Columbia – Gulf – Franklin – Jefferson – Madison – Levy – Lafayete – Dixie – Duval – Suwannee – St. Jonhs – Hillsborough – Pasco – Pinellas – Manatee – Sarasota – Charlotte – Highlands – Broward – Desoto – Collier – Port St. Lucie – Alachua – Bradford – Baker – Union – Indian River – Monroe – Okeechobee – Hamilton – Gadsden-Glades – Boca Raton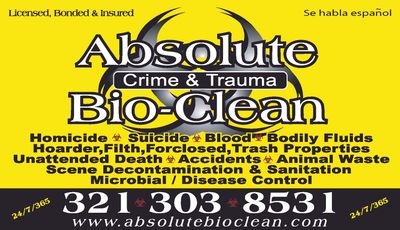 Absolute Bio Clean
Proud to service all 67 counties in Florida
Copyright © 2020 Absolute Bio-Clean – All Rights Reserved.
Absolute Bio Clean